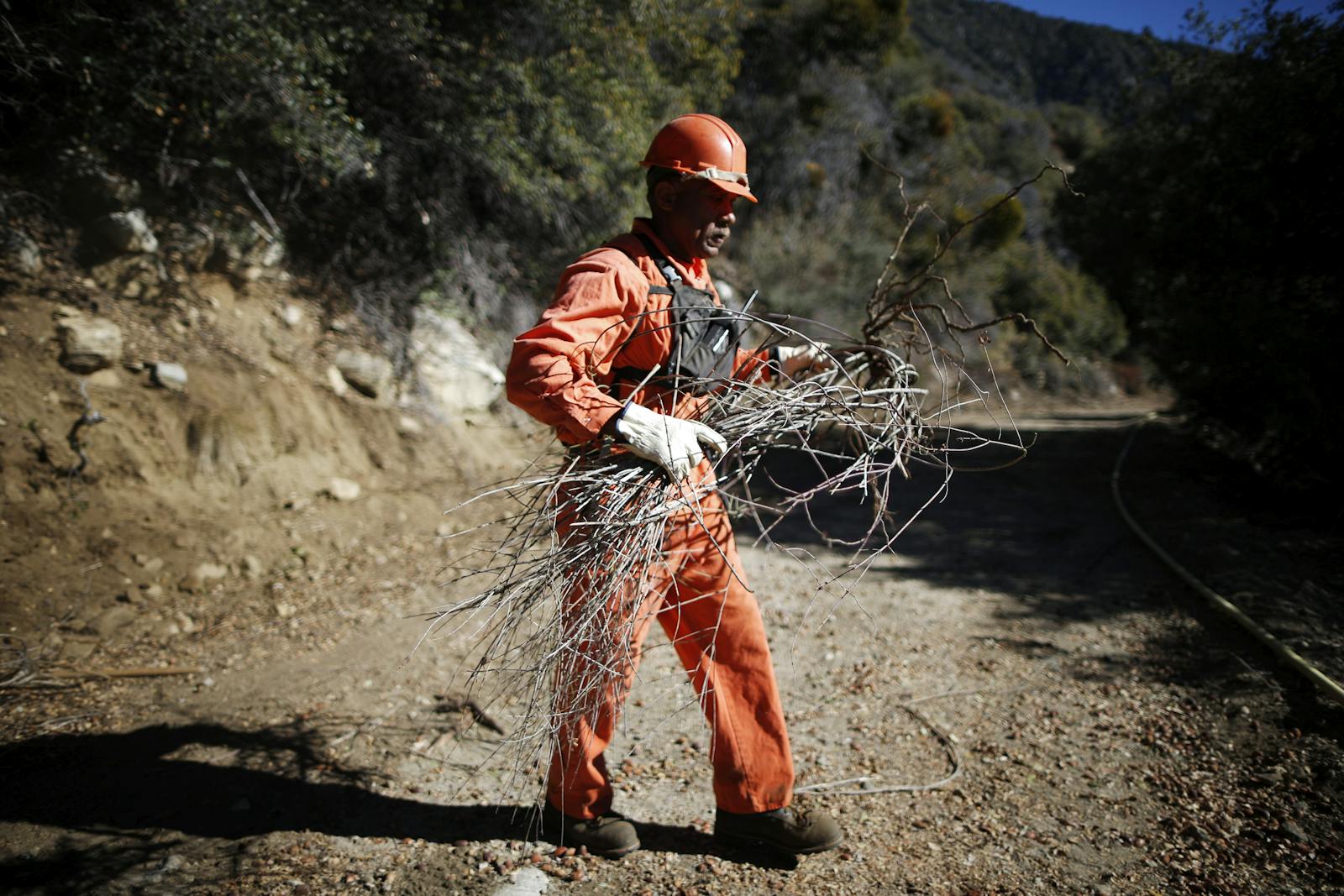 California inmates take a break from their 'jobs' fighting fires to play some chess. Reuters Prisoners in 17 U.S. states went on strike on Aug. 21 by refusing to eat or work to call attention to a number of troubling issues, including dilapidated facilities, harsh sentences and other aspects of mass incarceration in America. As we approach Labor […]
via US prisoners' strike is reminder how commonplace inmate labor is – and that it may run afoul of the law — Moorbey'z Blog
A few weeks ago, I posted a blog about inmate firefighters fighting the wildfires in California and this post strikes a chord with that one.
No one really thinks of all the prisoners who are forced into dangerous jobs where they are paid $1 a day to fight fires alongside seasoned firefighters who have been properly trained whereas we all know prison inmate firefighters have not received the same training and have died while trying to protect the property of whites.
We have seen example after example of whites who have called the cops on Black people for sitting inside a Starbucks, for selling water, for having a barbecue, for swimming in a pool at a complex they are paying rent at, for sleeping in a college common area of which they are a paying student, for doing their job of firefighting, for taking pictures of a house they intended to purchase and the list is endless. And so why would it be a stretch of the imagination to believe that many descendants of slaves are sitting up in prison on bullshit charges and who are innocent of any crimes? We have all seen case after case whereas a Black man has been released from prison and even death row on new evidence that exonerated him. So, why is it that we can just overlook the fact that America makes up only 5% of the world's population but has a prison population rate of over 25%? Something is seriously wrong with this! And America's prisoners have to initiate nationwide strikes to garner attention to their deplorable conditions, inhumane treatment, lack of mental health care since many inmates were locked up simply because they were mentally ill and there were no slots available in the community to house individuals with mental illness and so, lock them up.
Those of us who can know ALL of this and simply not be bothered to concern ourselves with this serious issue are morally bankrupt. How would you feel if you were incarcerated on some bullshit or your family member was incarcerated simply because he or she is mentally ill and died in prison as a result of being brutalized by thug prison guards? Do you have any idea of the amount of our tax dollars that have gone to pay for lawsuits against prison personnel for their role in causing the death of inmates by torturing and brutalizing them?
What about the many women who are sexually abused by prison guards and who are impregnated by them? This goes on ALL the time at prisons all across this country and male prisoners are experiencing sexual abuse by guards and other inmates as well. Do you seriously think that when these men and women leave prison, they are the better for these experiences? And what happens to the children conceived by female inmates by prison guards? Who pays for their upbringing seeing as how when a person has a record, it is quite difficult to get a job, not to mention, a well paying one once released from prison? And that foolishness we hear from prison officials about how these jobs are to give prisoners a means to support themselves once released is just more bullshit because when employers see that the applicant has checked, "yes," next to the box asking whether or not the prospective employee has ever served time in prison, they are quickly shown the door. There are not many employers who are sympathetic to ex-inmates or who will give them a chance once they have, as the state likes to claim, "paid their debt to society," because if that were the case, then former prisoners could vote in every state, but that is not the case.
Regardless of what you may think of people who are incarcerated, no one deserves to be constantly sexually assaulted, brutalized and raped by prison guards whose job it is to see that inmates simply do their time and then are released upon completion of their prison sentence. How would you feel if you, as a female, was taking a shower and some man you didn't know was standing in your bathroom watching you take a shower and who then forced you to have sex with him? If he allowed you to live, you'd be calling the cops as soon as you were able. However, this is an everyday occurrence in prison and male prisoners suffer the same fate.
So men, you would have no problem with another man watching you as you take a shower in your bathroom at home? So, why should a man in prison have to put up with that? Everyone deserves some privacy when they are cleaning themselves. It is human nature to expect such. Would any of you like to use the toilet in front of dozens of people? No, you would not. This is an everyday occurrence in jails and prisons. A sad fact is, these people have been dehumanized. We don't even think of them as human once they are incarcerated. They are out of sight, out of mind because it has been drummed into us that they do not deserve any consideration for being human. They are just a number and should be treated as such. We are indeed, without empathy, compassion, morals, decency and humanity.
And as for descendants of slaves in AmeriKKKa, we need only look cross-eyed and we end up in prisons which are just the new slave pens, hence the reason there are over 2 million Black men and women sitting up in prison. Many are there because they were crack addicts since Black crack addicts received prison sentences for their addiction whereas white addicts receive understanding, sympathy and rehab. That is by definition, hypocrisy. But we seem to be absolutely fine with the status quo. Go figure! The only ones who are not fine with the status quo are the prisoners who have to go on a nationwide strike to bring attention to the horrors inflicted on their bodies each and every single day by those who are supposed to be there to see to it that they serve their time free from abuse, but who are the very ones abusing them and who get away with it, day after day after day!