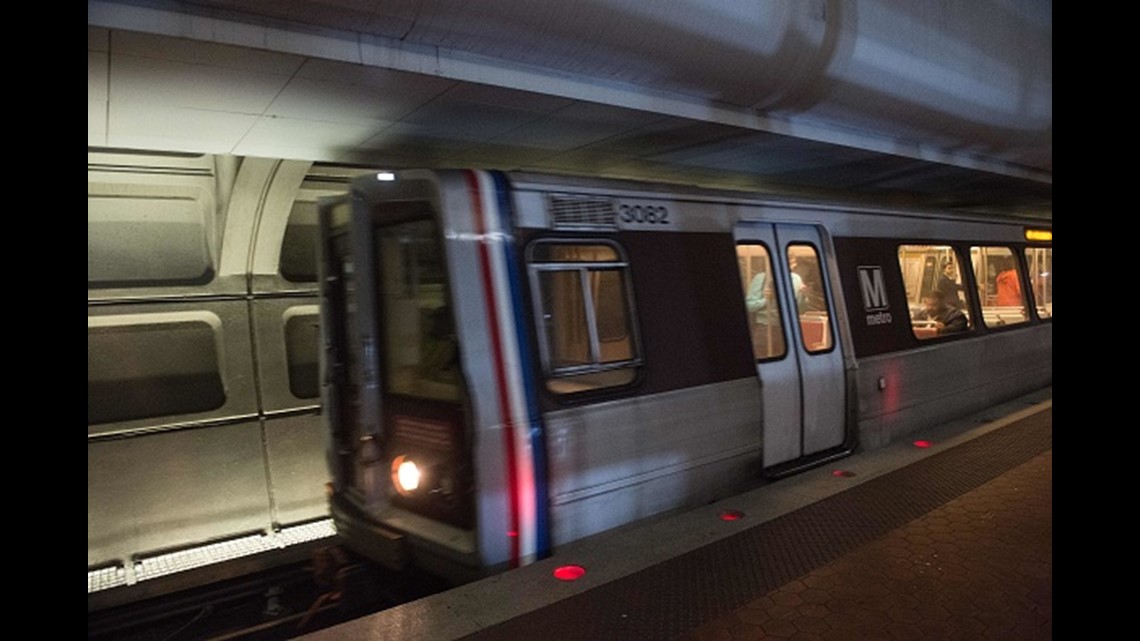 A man was hit by a Metro train at Southern Avenue in D.C., according to D.C. fire.
Fire officials say the man was extricated and was conscious and breathing.

The Green Line was single tracking between Naylor Road and Anacostia. Metro advises riders to expect delays in both directions.
No further information has been released at this time.
The above taken from the only article is all that I could ever find on this about my cousin's accident. I have been trying to take care of him ever since. However, the shit is hitting the fan for us all and I have never seen such in all my days as what we are experiencing now. And people have the nerve to wonder why I am so caustic on this blog; so enraged. Walk a mile in my shoes and then come talk to me.
My cousin and myself are being evicted because we PAID THE RENT IN ITS ENTIRETY EVEN THROUGHOUT THE PLANDEMIC BEFORE IT WAS DUE FOR FIVE YEARS AND FOR THAT WE ARE, APPARENTLY, BEING PUNISHED. I will be living in my vehicle, but my cousin was sent a letter from the Lynchburg Redevelopment and Housing Authority stating that he was approved for a housing choice voucher and yet, the Lynchburg Redevelopment and Housing Authority has been dragging its feet in getting a voucher issued to my cousin. They have had him running over to housing bringing in documentation and telling him that his voucher will be available in two weeks and when those two weeks came and went, it has now turned into "soon and very soon." These people play games with folks lives and the shit's not funny. I have been homeless many times and it doesn't get any easier, but if my cousin has been approved for a housing choice voucher, than they need to get on with issuing it to him so that he can find housing and not move into homelessness along with me in his condition.
I am only using my cousin's first name in this blog. My cousin Charles was struck by a train in 2016 and suffered a fractured skull which resulted in traumatic brain injury, a broken back, a broken neck and broken right femur. He was operated on and released from the hospital a week and a half after having been struck by a train. He has been signing up for housing assistance since he was struck by that train. The following emails will detail his most recent attempt to receive much needed housing assistance since the severe accident from which he is still trying to recover and please also note, that he suffered a heart attack in December of 2019 brought on by some prescribed medication he was taking.
Twice he's updated the waiting list.
LYNCHBURG REDEVELOPMENT AND HOUSING AUTHORITY

Hi, Charles.

You have successfully updated your application for the following properties:

2021 Section 8 Waiting List
Public Housing Waiting List
LYNCHBURG REDEVELOPMENT AND HOUSING AUTHORITY

Hi, Charles.

You have successfully updated your application for the following properties:

Public Housing Waiting List–
2021 Section 8 Waiting List
Here is an email from Senator Kane in response to Charles sending him a request for assistance with trying to obtain housing help through the Lynchburg Redevelopment and Housing Authority.
Dear Mr. Charles:
Thank you for taking the time to write me regarding the problem you are experiencing with Lynchburg Redevelopment and Housing Authority. 
I have contacted the U. S. Department of Housing and Urban Development (HUD) on your behalf and asked their office to review and respond to the concerns. You will be updated as soon as new information becomes available to my office. In the meantime, if you have questions, please contact my Caseworker, Paula Sherman, at paula_sherman@kaine.senate.gov.
Again, thank you for writing. 
Sincerely,
Tim Kaine
Here is the response to Senator Kaine's email to Housing & Urban Development.
U. S. Department of Housing & Urban Development Richmond Field Office 600 E. Broad Street, 3rd Floor Richmond, VA 23219 1-800-842-2610 February 3, 2022Via Email: Paula_Sherman@kaine.senate.govThe Honorable Tim Kaine United States Senate 919 East Main Street, Suite 970 Richmond, VA 23219
Dear Senator Kaine:
Thank you for your correspondence on behalf of your constituent, Mr. Charles
of Lynchburg, VA who contacted your office regarding his status on the Housing Choice Voucher (HCV) program waiting list with Lynchburg Redevelopment and Housing Authority (LRHA). Mr. Charles says he applied for a HCV on March 8, 2021. He had a question about why his position on the waiting list dropped, moving from number 140 in July, 2021 back to number 154 in January 2022. We contacted LRHA's Executive Director, Ms. Mary Mayrose, regarding Mr. Charles's concern. It appears that the change in placement on the waiting list was due to an error caused when LRHA received a new allocation of Emergency Housing Vouchers (EHV) in 2021 that were mistakenly placed on the HCV wait list. The EHV program is being issued through the Continuum of Care (CoC) and LRHA is currently in the process of moving those EHV families to their own wait list. Mr. Charles's spot will be corrected accordingly. If Mr. Charles would check back on his placement in about 7 days, the error should be corrected. LRHA advises Mr. Charles to review his application to determine that he has entered all waiting list preferences relevant to his situation that he can support. Also, the LRHA's Public Housing waiting list is open and typically remains open at all times. If an applicant applies for a Public Housing unit it will not affect their placement on the HCV waiting list. We hope this information is helpful to you as you respond to your constituent. If you require additional information, please feel free to contact our office at 804-822-4949.
Finally, Charles received the application for a housing choice voucher, he completed it, turned it in and it was accepted by the Lynchburg Redevelopment and Housing Authority. But then he received an email stating that he had failed to complete the application that he had HAND DELIVERED to the housing authority and copies were taken of all accompanying documents.
Below is the email.
Dear CHARLES
 Please be informed that the item(s) listed below are still needed to complete your file. Please provide the document(s) within 7 business days of this notice, no later than 5 pm onAugust 24, 2022.
EIV – what you should know form – sign and date
Updated SSA benefit letter dated within 60 days
Full copy of most recent bank statement (copy received missing page 2)
Please let me know if you have any questions.
Collison J. Corner
Eligibility and Intake Coordinator
918 Commerce Street
Lynchburg, VA  24504
434-485-7208 Office
Here is an email that Charles sent the intake coordinator, Collison Corner at the Lynchburg Redevelopment and Housing Authority.
I hand delivered my application to housing and the lady at the front desk assured me that everything housing needed was included in the finished application. Why did no one tell me that I had returned an incomplete application? I even called on Monday of this week and inquired about why I had not heard anything from the housing authority. I was told by the lady who took my application that the next thing I would receive from housing was a telephone call letting me know the date that I could come for my housing choice voucher. I do not understand why at this late date, I am being told that I did not turn in necessary documents when the lady made copies of all documents. My entire bank statement was in the envelope and it is not my fault that she neglected to copy the entire statement. She also did not tell me that I needed an updated copy of 60-day Social Security benefit statement. She took a copy of my benefit award letter and she did not let me know that the statement was insufficient.
I do not have a computer and you told me when I called you that I was, in your words, "confirmed," so I took that to mean that you had everything that you needed. The only reason I am aware of this at this time is because my cousin just happened to check my email and discovered this from housing.
I would appreciate not being held responsible for what is being perceived as a lack of cooperation on my behalf.
Charles then sent this email to Corner after speaking with Corner who told Charles that he would be away on vacation for two weeks and that a voucher would be issued when he returned to the office:
Sent: Thursday, September 8, 2022 6:29 PMTo: Collison J. Corner <ccorner@lynchburghousing.org> Subject: RE: Housing Choice Voucher acquisition date
Dear Mr. Corner,
I was told that it would take two weeks for the voucher to be issued. As of today's date, it has been fifteen days and I have not received any indication of when the voucher would be available. Any information that you could provide as to when I would be able to obtain the voucher would be greatly appreciated.
Sincerely,
Charles
The response from the Lynchburg Redevelopment and Housing Authority.
Collison J. Corner <ccorner@lynchburghousing.org>
Charles,
I have sent your file upstairs for further processing. You will be receiving a call soon.
Collison
What other housing authority could get away with this? It is blatantly obvious that the Lynchburg Redevelopment and Housing Authority is intentionally withholding Charles's housing choice voucher that he has been waiting a year and a half to hopefully obtain and yet, after having been told that he was approved for a housing choice voucher, he was told that in two weeks, he would be contacted to come in and get his voucher, when the two weeks passed, he is now being told that his shit is being "sent upstairs for processing." This Corner dude IS UPSTAIRS and so where the hell is he sending what he claims needs to be further PROCESSED? To the MOON??!! This man is going to be homeless come September 30th and the Lynchburg Redevelopment and Housing Authority is well aware of that fact, but is still playing games with this man's life and it's not funny. This man was hit by a damn train, is suffering as a result because, let me state it again, from A SKULL FRACTURE AND AS A DIRECT RESULT, TRAUMATIC BRAIN INJURY, A BROKEN BACK, A BROKEN NECK, A BROKEN RIGHT FEMUR AND HIS ARTERY HAD TO BE RE-ROUTED THROUGH THE VEINS IN HIS RIGHT LEG and he is expected to be okay when he goes into homelessness come October 1st because Corner has to send Charles's voucher UPSTAIRS FOR PROCESSING because the man on the moon needs to view it???!!!! Really??!!! Seriously????!! And people have the nerve to wonder why there are so many fucked up homeless people walking the streets????!!! This would be why!!!! Don't be wondering about that shit because it is DELIBERATE!!!
The state of New Jersey just issued FOUR THOUSAND HOUSING CHOICE VOUCHERS, ONE THOUSAND WENT TO HOMELESS PEOPLE AND THEY HAVE RECEIVED THEIR VOUCHERS while this little, bitty burg can't get one man's voucher to him in a reasonable time span??!!! There ain't nothing but 70,000 or so people in this little ass burg and 82% of them are rich whites. They are NOT in need of a voucher! And so there is no excuse on this planet why that man's voucher is being held up! No excuse at all that is on the level.
Here are copies of what we were sent by Greenbrier Management Company that took over Bramblewood Apartments Complex, but we were never issued a new lease and obviously that is not going to happen. It is not as if we have been sitting back waiting on a miracle because for anyone who has been reading this blog over the nine years that I have been posting, it is known that I am not one to sit and twiddle my thumbs, but, AGAIN, I have never experienced what is going down now. It is like there is a concerted effort by ALL entities, governmental, corporate, etc., to see to it that as many people as possible are fucked up. I have exhausted ALL avenues of trying to find a place and frankly, I am at my wit's end. If it was just me that I had to concern myself with, I wouldn't have a problem because I am tired of having to 'prove' myself to potential 'landlords' that I would be a great tenant. That shit should have already been proven since I have rent receipts dating back FIVE YEARS, a perfect FIVE YEAR rental history in one unit and that's not good enough. So, I'll be homeless. That's nothing new, especially for Black people, but if my cousin has been approved for a housing choice voucher, than by God, he should be able to receive it and not have people playing games with his very life!
Below is the first notice that we received from Greenbrier Management, but no lease.
And then in July, we were sent this notification and yet, still no lease.
And now, it is the end of our lease term, September 30, 2022, and still no lease has been signed. I even spoke with Louie, who was the manager of this complex last month when I paid the rent because like I've already stated, I pay the rent the month prior to the month that it is due and have the receipts to prove that. In fact, Louie asked me if I was paying rent for August when I was paying rent for September in August. That is how ridiculous and clueless that mess is over at the office. And now, there is a Black woman sitting in Louie's chair. So, since Greenbrier Management took over, we have dealt with so many different office people, my head is spinning. First there was Indica and Devon, then Cassie, then Louie and now a new girl. For the love of!!!!! When I spoke to Louie, he told me that we would be going month-to-month. Look at the second notice and see what their month-to-month rate is plus add a hundred dollar month-to-month fee. That is only for people who did not send notification of their intent. I sent notification of our intent back in June and so we should not be on a month-to-month and so, in essence, we are being evicted because they know that we sent in our notification before it was even due and we're not fucking paying them a month-to-month rate and be sitting in the
food bank line that's about to close
down for lack of donations, looking cross-eyed.
Meanwhile, I have been trying since February to find an alternative, but with the housing situation the way it is, I have found nothing available. I actually caught COVID or so they tell me back in June trying to find housing. We signed up but never heard anything and despite numerous emails, nothing. I went to Minnesota in July and signed up for an apartment and was told that I was on the waiting list. I am on waiting lists for apartments from Ohio to Minnesota to New Jersey to Iowa and, AGAIN, nothing.
Folks, this shit is NOT funny and it is coming for ALL of us. News story after news story I have read about how rents are skyrocketing, home prices aren't down much so that people can afford to buy homes and folks are being set out on the streets in every state in this shithole. So, if you think this is funny, keep laughing, a few months from now, the shit will be impacting those who think it won't.